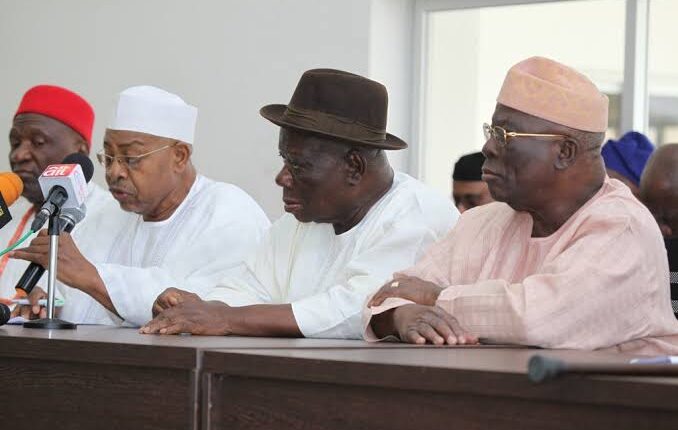 2023: Zone presidential tickets to us, southern leaders tell parties
AHEAD of next year's presidential election, the Southern and Middle-Belt Leaders Forum has called on political parties to zone their tickets to the south. 
The group made this known in a communique issued yesterday after a meeting chaired by the leader and elder statesman, Edwin Clark.
The group consists of four regional socio-cultural organisations; Afenifere (South-West), Ohanaeze Ndigbo (South-East), Pan Niger-Delta Forum (PANDEF) and the Middle-Belt Forum (MBF).
The individual bodies had in different times advocated for a rotational presidency.
However, collectively, they unequivocally resolved that political parties in the country should zone their presidential tickets to the south.
According to the communique signed by Clark, alongside the leaders of the four groups, the group warned parties to forget about their support should they default.
Other resolutions include;
"That the extant Constitution and Structure of Nigeria are grossly flawed and lopsided;
"Notes that the basis of any viable democracy, especially in a diverse and complex country such as Nigeria, is fair and even sharing of power;
"Condemns the continued senseless killings of innocent citizens across the country by terrorists and criminals, especially in the North West Zone; calls on the government and security agencies to redouble efforts to safeguard the lives and property of Nigerians;
"Cautions the National Assembly to ONLY consider Bills that would promote equity, justice, peace and national cohesion instead of issues that will exacerbate conflicts and crisis in the country.
"Urges Governors and members of the National Assembly of the four regions to commit themselves to the subject of Restructuring;
"Reaffirms commitment to the unity of Nigeria, situated on the tenets of Equity, Fairness, Justice, and the principle of federalism".