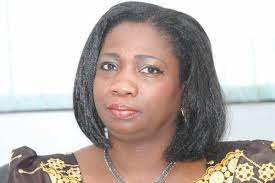 Abike Dabiri under fire for calling Twitter user 'ode'
The chairman of the Nigerians in Diaspora Commission (NIDCOM), Abike Dabiri-Erewa, has come under criticism for calling a Twitter user 'ode'.
The clash began yesterday after Dabiri-Erewa gave an update on the attack on Nigerian students in India.
The Twitter user with the handle @sensegiver1 wrote, "She should go to Indonesia and see how Nigerians are treated. Mumu woman supporting a failed government. She's equally part of the failure. Eye service!"
However, the NIDCOM boss responded, "Ode! You go to Indonesia, carry drugs, do cultism and come begging to be rescued from death sentence. Thank God for @ndlea_nigeria now saving people like you from death row."
Nigerians have reacted to her tweet, with many calling her to bring down the tweet.".
Former minister of eduction, Obi Ezekwesili, asked Abike-Dabiri to immediately clean up the tweet which she described as messy.
She wrote, "Dear Abike @abikedabiri , What is this? Kai. This is messy. Please clean it up. Quickly. Please."
The NIDCOM boss, however, said, "I'm done on this. But out of respect for you, will ask, Clean what up? It's okay for some untrained, uncouth guy to refer to me as "Mumu", and I can't call him "Ode" I'm not a public official that cows to bullying pls."