FACT CHECK: Is Davido's son, Ifeanyi alive?
Claim: Singer Davido's son, Ifeanyi Adeleke, is alive and responding to treatment.
There have been reports on social media insinuating that Ifeanyi Adeleke, the son of Nigerian pop superstar, David Adeleke, popularly known as Davido, who reportedly drowned in the family's swimming pool in Lagos, and was allegedly rushed to a hospital, where he was confirmed dead, is still "alive and responding to treatment."
TheNigerian News reported that the three-year-old boy died on Monday, October 31, 2022 in an alleged swimming pool accident. The spokesperson of the Lagos State Police Command confirmed Ifeanyi's death on Tuesday, November 1, saying eight of the singer's domestic workers have been picked for questioning. The police later released six of the staff, while two are still in custody.
While Davido, and the child's mother, Chioma Rowland, are yet to confirm or debunk the news, new reports have emerged claiming that Ifeanyi is alive and responding to treatment at a medical facility in Lagos.
Full story
The rumour that Ifeanyi is alive is fuelled by a video of a child in a hospital bed responding to treatment.
The video started trending on TikTok and has now spread to other social media platforms, including Twitter, Instagram and Facebook.
In the video spotted online by the Nigerian News reporter, a boy was seen playing in a hospital bed, showing he is responding to treatment, with a Gospel song playing in the background.
The video is being spread by social media blogs like Naijarealityupdates, Gist Naija TV, among others, who insinuated that the child is Davido's son, Ifeanyi and that he is alive and responding to treatment, contrary to report that he is dead.
Thank you Jesus 🙏🙏🙏 Prince Ifeanyi David Adeleke is alive 🥰#ifeanyiisalive #IfeanyiAdeleke #ifeanyi #Davido #BlackSherif #T20WorldCup2022 pic.twitter.com/zqbpTW3PtN

— NaijaRealityNews (@NRealityNews) November 4, 2022
Is the boy in the viral video Davido's son, Ifeanyi?
Contrary to the claim by some bloggers and social media influencers that the child in the trendy video is Davido's son, Ifeanyi, the video was first posted on October 24th, 2022, by an Instagram user who goes by the handle @jeremiahgracentk2dwarrior with the caption: "My son taught me that if you go in with a praise, no matter what happens, you come out with one too. Jer went to the #operationroom off the ventilator and all smiles; most of the tissue above his tract is still collapsed with very narrowed vocal cords, but after he returned he woke up alert and I'm just thankful. Now we have to wait to make sure his lungs stay clear overnight without complications. This is the song I sang to him all day…"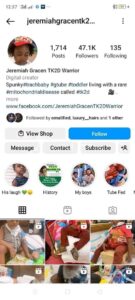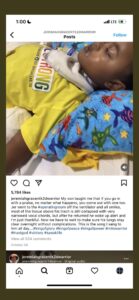 From the above, it's clear that the boy in the viral video is not Davido's son, Ifeanyi.
Therefore, the claim that Ifeanyi is alive and responding to treatment is MISLEADING!