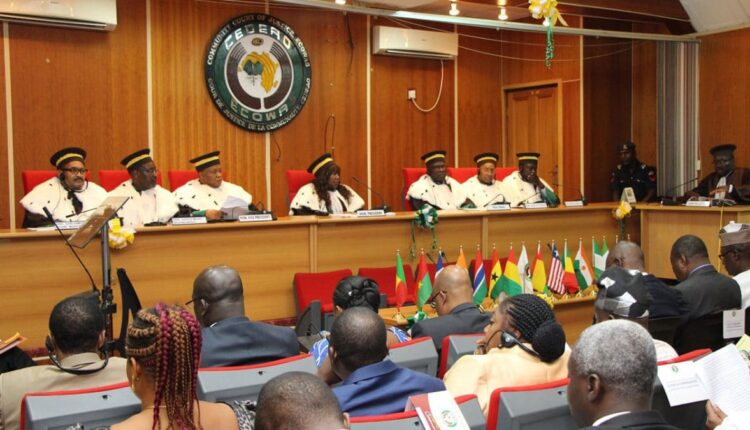 ECOWAS Court decries member countries' refusal to obey, enforce its judgment
The Economic Community of West African States (ECOWAS) Community Court of Justice has decried the attitude of governments in the region to obey and enforce its decisions on cases brought before it by aggrieved citizens.
While describing the attitude as unfortunate, the Court lamented that its effectiveness had been circumscribed by the disregard and disobedience to the decisions.
Speaking at a public function of the Court in Abuja on Monday, the President of the Court, Justice Edward Amoako Asante, lamented that only 30 per cent of the court's decisions are being enforced despite its impressive record of decisions and courage attributable to the Independence and character of the judges.
Justice Asante, who spoke at the new Building of the Court in Abuja, recalled that for about 10 years, the Court engaged the Nigerian Government to secure a replacement for its old office in Wuse which he claimed had become hopelessly inadequate for its operations.
Justice Asante added that the Court partially had its way in 2016 when the Minister of the Federal Capital Territory (FCT), through intervention of the Ministry of Foreign Affairs, pledged to rent a new office for the Court to ease its persistent accommodation problem.
He thanked the Nigerian Government through the Federal Capital Territory for fulfilling the promise by allocating a temporary place for it at Gudu District of Abuja, adding that apart from making life comfortable for the workers, the new building would ensure improved efficiency and productivity in its performance as an International Court of Justice.
"The provision of this edifice not only resolves the present accommodation challenges of the Court but should challenge the Court to aspire to increased performance that is reflective of the more congenial working relationship".
Justice Asante assured the ECOWAS member countries of the determination of the Court to live up to expectations to strengthen its role as an important institution in the interpretation of laws in the region.