Image copyright
TCFFC
One of the original writers of The Simpsons has responded to claims that Apu will be written out of the show.
Last week, producer and Youtuber Adi Shankar claimed that The Simpsons plans to "drop the Apu character altogether".
But Al Jean, who is an executive producer, has responded on Twitter saying that Adi Shankar "does not speak for our show".
Apu has become controversial recently, with some people arguing that he is an Indian stereotype.
Image copyright
TCFFC
Image caption

Apu is voiced by Hank Azaria, who has previously said he'd be willing to "step aside" from the role

Adi Shankar, who is a producer on the Netflix show Castlevania, told IndieWire that he'd been told Apu's days on the show were numbered.
He claimed to have got the news from two people who work on the show and a third person who works with Simpsons creator Matt Groening.
Simpsons executive producer Al Jean, who has been there since the show started way back in 1989, tweeted: "Adi Shankar is not a producer on the Simpsons. I wish him the very best but he does not speak for our show."
Al Jean didn't say whether or not Apu would be staying in the show or not.
Earlier this year, Adi Shankar launched a competition to write a script which "in a clever way subverts [Apu], pivots him, writes him out, or evolves him", which he argued would solve the "Apu problem".
He said he would make the episode on his Youtube channel, which makes parodies and fan films.
There has been a discussion about Apu since Indian-American comedian Hari Kondabolu released a documentary called The Problem with Apu last year.
He said that the stereotypical portrayal of Apu meant people made fun of him.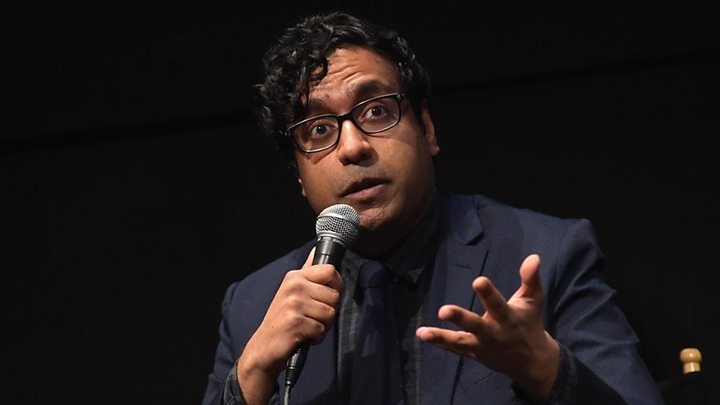 Media playback is unsupported on your device
Media captionHari Kondabolu: "The show threw Lisa Simpson under the bus"
"After a while, you'd watch The Simpsons on a Sunday and you'd get a sense of how you'd be made fun of at school on Monday, based on what Apu did in the latest episode," Hari Kondabolu told the BBC last year.
"Apu was the only Indian we had on TV at all so I was happy for any representation as a kid.
"And of course he's funny, but that doesn't mean this representation is accurate or right."
The Simpsons responded to the controversy in an episode earlier this year, which divided audiences.
Newsbeat has contacted Fox TV for comment.
Follow Newsbeat on Instagram, Facebook and Twitter.
Listen to Newsbeat live at 12:45 and 17:45 every weekday on BBC Radio 1 and 1Xtra – if you miss us you can listen back here.
All copyrights for this article are reserved to BBC