Enugu gov meets Tinubu, demands Nnamdi Kanu's release
...Says Kanu's release will speed up national reconciliation...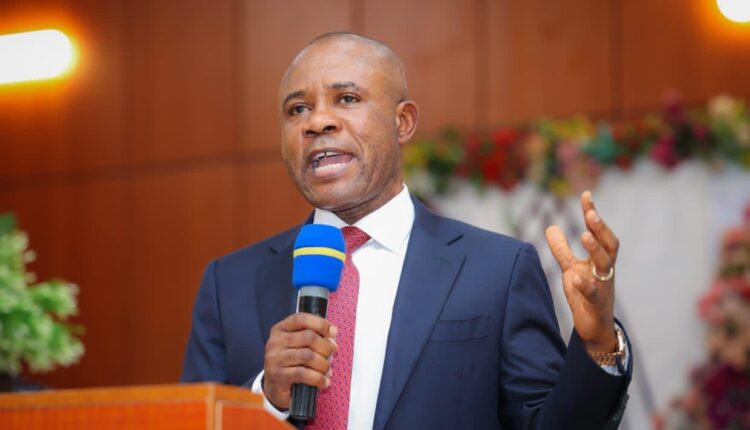 The self-proclaimed leader of the outlawed Indigenous People of Biafra, Nnamdi Kanu, is being sought after for release; Governor Peter Mbah of Enugu State has begun negotiations with President Bola Tinubu on this subject.
The release of Kanu would be consistent with the President's plan for national healing, as he promised on May 29, Mbah told State House Correspondents on Thursday after a private meeting with Tinubu at the Aso Rock Villa in Abuja.
It has been precisely two years since Kanu was detained in Kenya and extradited to Nigeria, where he was charged with seven counts of terrorism, according to reports.
In November 2021, the IPOB leader was subsequently re-arrested on an updated 15-count charge.
Mbah claimed that while at the villa, he talked about the prospect of releasing the secessionist activist who has recently received a number of favourable court rulings regarding his prosecution.
The release of Kanu, according to the new governor, would be Tinubu's gesture of goodwill towards the region of the South-East where the IPOB leader is from.
He expressed the wish that the request would be given the president's favourable consideration.
Of course, we also discussed Nnamdi Kanu's release.
"You are aware that the South East has united in calling for Nnamdi Kanu's release. We essentially agreed with that and made a request to the President, who in his inaugural address promised to promote national healing and provide compassionate leadership.
So, Mbah explained, "we've basically told him that this would point to his administration's extension of hands of fellowship.
He also revealed that he requested help from the federal government to explore Enugu State's rich mineral resources for the benefit of her citizens.
According to Mbah, Enugu has a wealth of untapped resources that can be discovered with the help of the government.
"We have adopted a bold perspective on what the new group could accomplish in the next four years in terms of expanding our economy from the current levels to $30 billion. Additionally, we have identified the federal government as our primary partner. Collaboration and partnership are two of our core governance philosophies.
"We have a number of idle assets in Enugu that we think we can turn into productive assets by working with the federal government.
Many people are unaware of the vast mineral resources we have in a new group. And these resources are doing nothing beneath our ground. So, Mbah said, "We think we can turn these assets into productive assets with the partnership we're trying to build with the federal government.
"You know that the growth level we have proposed is one that is going to be driven by the private sector and the private sector wants the ease of doing business and one of the core indicators of the ease of doing business is security and infrastructure," he said when discussing enhancing security and private sector investments in the Southeast.
"So, we also spoke with Mr. President about that. We have made a statement that is very firm. On Mondays, we have outlawed staying in Enugu.
"And naturally, what that means is that we will, of course, need to, you know, heighten our security, tackle the challenges that would flow from that, and, you know, basically that's what I have come to do," the speaker continued.
The Governor explained the reason for his visit by saying, "I came and frankly, I brought to the President, the warm greetings and best wishes from the government and the people of Enugu state."