NDDC promises speedy intervention on damaged road in Rivers, partners with Gbaramatu Kingdom on projects completion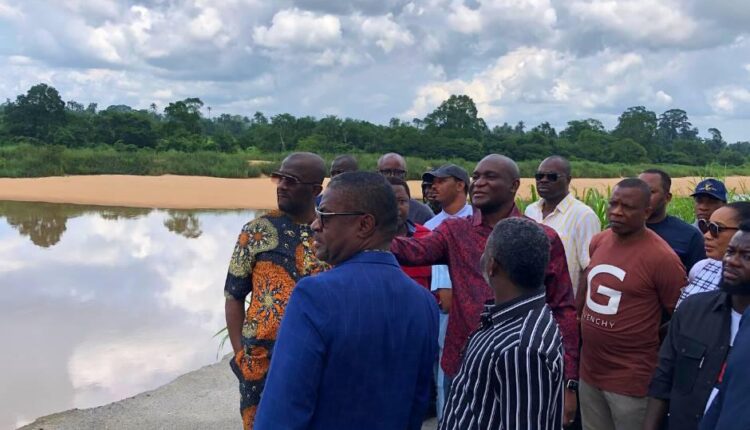 The Niger Delta Development Commission, NDDC, has assured the people of Akinima community in Ahoada West Local Government Area of Rivers State of its speedy intervention on the damaged and unmotorable road linking the community with Joinkarama.
The NDDC Managing Director/CEO, Dr. Samuel Ogbuku, gave this assurance on Friday when he led some members of the Commission's management committee on an inspection tour of the Akinima – Joinkarama road, which has been greatly damaged by erosion.
Ogbuku sympathized with the commuters and residents of the area and promised to provide a temporary alternative route while the permanent solution to the erosion problem was being worked out.
He said: "This is a major road linking many communities in Ahoda West LGA of Rivers State, as we can see there is no way people can access this road because of the damage caused by erosion. We are going to immediately provide temporary alternative route while the permanent solution to this problem is ongoing."
The NDDC boss also reiterated the Commission's resolve to collaborate with stakeholders of the Niger Delta region in every step of its mandate, as he stressed the motive of his Management's Public Private Partnership (PPP) drive which he described as essential to the completion of ongoing projects of the Agency, as well as initiation of new ones.
He made this known when he visited the palace of the Pere of Gbaramatu Kingdom, King Oboro Gbaruan II, at his palace in Oporoza, Warri, Delta State.
According to Ogbuku, even though his administration prioritizes the completion of ongoing projects, however, the resources at their disposal are meager and cannot see them through such a feat, appealing that, it is against this backdrop that they adopted the PPP to serve as an alternative source of funding for the Commission.
He said: "Even though we have prioritized the completion of ongoing projects, however, we do not have enough funds to achieve this. That is why the current Management adopted Public-Private Partnership as an alternative source of funding, believing that with fruitful partnerships, we can complete all our projects and even initiate new ones."
Ogbuku also informed that his administration has made deliberate moves to ensure all stakeholders are carried along in the distribution and execution of the Commission's mandate, exposing that the Agency's 2024 budget has already assembled representatives from various categories, as the budget aspires to be all-inclusive.
He said: "As we are all aware, the 2023 budget is not ours. It was prepared before we came. But the next year's budget is currently being prepared and will capture every stakeholder's priority. It is going to be a stakeholders budget and State Governors, IOCs, our State liaison directors, and board representatives have all sent in liaison personnel."
Ogbuku also inspected some ongoing projects in Gbaramatu Kingdom, including the canalization of Oporoza Creek and the Warri-Amadino-Okerenkoko Road. He noted that these projects would provide easy access and navigation for the communities and the oil company operating in the area.
He said: "We have reached out to Chevron Nigeria Limited and other stakeholders, seeking partnership on this and other projects. We chose the Public Private Partnership, PPP, model as an alternative source of funding for the Commission. So, we have been going about seeking funding partners to complete our current projects and also start new ones."
Receiving the NDDC team, King Oboro Gbaruan II praised the Commission's Management for the PPP initiative as he promised to do his call of the bid.
The monarch, however, registered his unhappiness over the cancellation of projects by the NDDC, stating that no awarded project deserves to be canceled, as every project has its unique impact on Niger Deltans.
He said: "The report of projects cancellation did not sit well with us. No project deserves to be canceled instead, if you have a project that is not progressing well, sanction the contractor and re-award the project to another contractor. Niger Deltans are making demands for new projects; canceling old ones does not add up. Meanwhile, your administration should also prioritize jetties, roads, and canalization projects in this part of the region."
The traditional ruler also urged the NDDC to ensure that none of its projects was abandoned, noting that the non-completion of projects was responsible for the slow pace of development in the Niger Delta region.
He said: "As traditional rulers, we are worried that development is not moving as fast as we expected. We have played our own role by ensuring that there is peace in the Niger Delta region. Having provided a peaceful environment, there should be no excuse for not developing our region."