Tinubu Addresses 78th UN General Assembly; Advocates Universal Sanctions for Companies, Individuals illegally smuggling arms, minerals in, out of Africa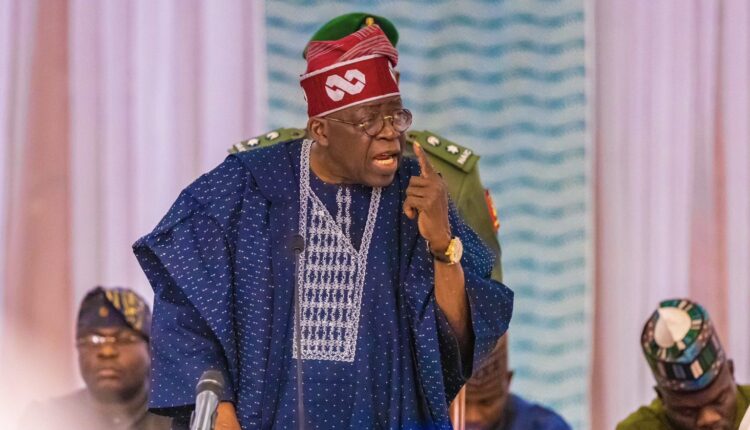 In his address to the 78th United Nations General Assembly, President Tinubu calls for the UN to impose universal sanctions on all companies and individuals involved in the smuggling of arms and minerals into and out of Africa.
In his address to world leaders at the 78th United Nations General Assembly on Tuesday in New York City, President Bola Tinubu made the strong and compelling claim that the time has come for UN member states to demonstrate, through their deeds, that they mean what they say in regards to the crackdown on terrorism financing, economic sabotage, and illicit mineral and arms smuggling in developing nations.
"Protecting the continent's mineral-rich regions from theft and violence is the fourth critical component of global trust and solidarity. Many of these places have turned into exploitation and misery caverns. This has been a problem in the Democratic Republic of the Congo for years despite a significant UN presence there. The DRC owes the global economy a lot, yet she receives relatively little in return.
"Thousands of our people have been forced into servitude by foreign organizations that are assisted by local criminals with aspirations to become petty warlords in order to unlawfully extract gold and other minerals. Countless violent activities are being financed by billions of dollars intended for national improvement. They pose a serious threat to national security and the peace if left uncontrolled. Many Africans are speculating as to whether this phenomenon is by mistake or on purpose given the severity of this injustice and the significant stakes involved. Members must respond by cooperating with us to stop their companies and citizens from plundering the continent's wealth in the 21st century. The poverty of nations must end in order to uphold the principles of this global organization and the theme of this year's Assembly. The overreach of businesses and individuals from stronger nations in plundering the riches of one nation must now come to an end, the President proclaimed.
According to President Tinubu, the ease of doing business may not be the main barrier to large-scale investment despite the fact that his aggressive diplomatic push for new investment has been effective in presenting Nigeria as business-ready.
"Whether Nigeria is open for business is not the question. How much of the world is actually willing to conduct business with Nigeria and Africa in a way that is fair and profitable to both parties? The President stated that vital components of the partnership we want include direct investment in crucial industries, opening their ports to a wider variety and greater amount of high-quality African exports, and real debt reduction.
The President also stated that there cannot be a "one size fits all" strategy used to combat the effects of climate change, and that nations must work together to develop and implement their own plans that are specific to their own socioeconomic strengths and weaknesses.
African countries will combat climate change, but we must do so according to our own standards. This campaign must be in line with our broader economic initiatives in order to win the necessary popular consensus. In Nigeria, we will foster political unity by emphasizing corrective measures that also advance the greater benefit of the economy. Examples of initiatives that simultaneously advance economic and climate change goals include "The Great Green Wall" to prevent desert expansion, the mass production and distribution of gas-burning stoves to stop the destruction of our forests, and local water management and irrigation projects that create jobs. Only if developed economies were more willing to provide public and private sector funding for Africa's preferred projects and initiatives would continental efforts to combat climate change record significant triumphs, the President cautioned.
In his closing remarks, President Bola Tinubu reaffirmed what Africa actually stands for in the global community.
"Follow us as sincere partners and friends. Africa is neither an issue to be avoided nor a cause for sympathy. Africa is unquestionably the key to the future of the planet.
Ajuri Ngelale, Chief
Advisor-Special to the President
The State House, Abuja (Media & Publicity) 2020 – The State House, Abuja